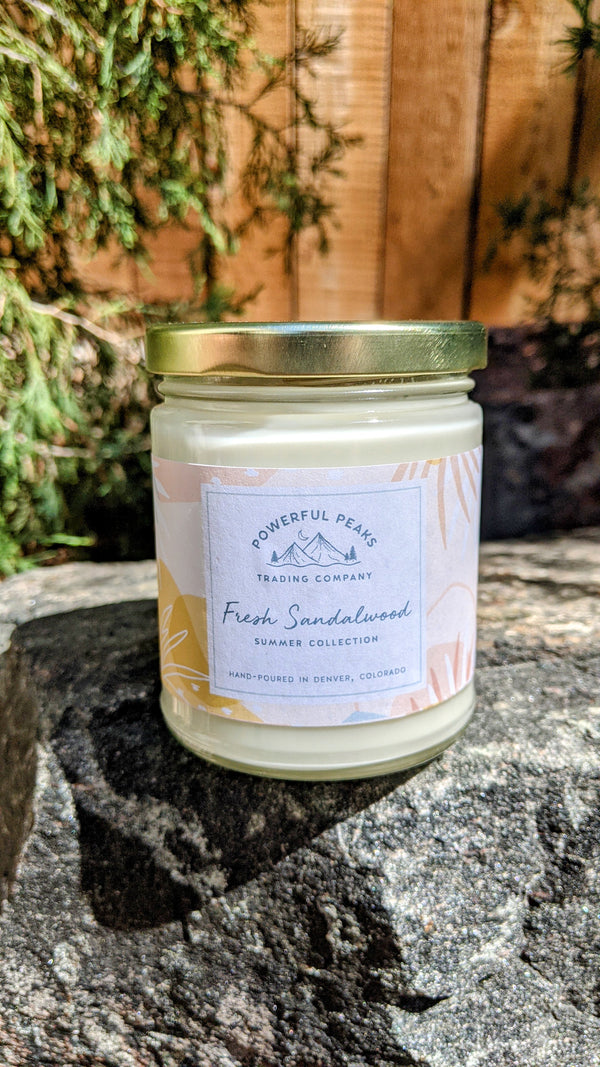 Fresh Sandalwood - Sandalwood | Amber | Coriander - 8 oz. Soy Wax Candle
Sandalwood is drawn from a small tree that is native to India and has been used medicinally as an anti-inflammatory that has many healing properties. This popular scent fills the room with earthy undertones that will make you feel calm, cool and collected. If you are feeling like you need to disconnect, relax and unwind this Summer, this candle is for you!
We take care in hand pouring our soy candles locally in Denver, Colorado. Soy wax allows a slower burn, creating a moment in time that stretches on — prolonging your relaxation experience. Soy wax also burns cleaner and clearer, making black soot a thing of the past, and leaving nothing to upset your serenity.

Vibrant colored wax poured into sturdy glass; Powerful Peaks Trading Company candles can change the very essence of a room with just the simple spark of a wick.
Candle Information
Standard (8 oz): This is our most-popular size and is meant for dressers, countertops, nightstands – basically everywhere. Burns for 40-50 hours. 2.9" in diameter and 3.5" in height.
How to Use
We highly recommend following each of the following steps:

- Trim your candle's wick to 1/4" before each lighting or once your candle has cooled.
- Never attempt to trim a burning candle.
- Discard the snipped portion in the trash; never leave wick trimmings in your candle jar.
- The wick should always remain centered and away from the sides of the vessel.
- Allow the wax to melt to the edges of the jar during each burn to prevent tunneling.
- Once the candle's gone, we hope you'll re-use it. Clean it out and you've got a new planter or pencil holder – or whatever you want!

Safety first - because candles contain a small flame, we encourage following these common sense rules of thumb:

- Never leave a candle burning unattended, near a draft, or in reach of children or pets.
- Don't burn your candle for more than 4 hours at a time.
- Do not allow your wick to curl over, as this can create a larger than normal flame.
- Stop burning your candle when only 1/4" of wax remains.
- Do not pick up a burning candle or immediately after it's been blown out.
- Protect the surface underneath the candle no matter the material.
Ingredients

- Made from a natural soy wax blend with premium cotton wicks and fragrance oils.
- Non-toxic and contain no lead, plastics, paraben, or phthalates.
Shipping & Returns
SHIPPING
Most orders ship within 1-2 business days. Some orders may require up to 2 weeks to ship due to product availability. If you do not receive an order confirmation email within 2 weeks of placing your order, you can contact hello@powerfulpeaks.com for a status update. Please note that USPS and UPS are also experiencing delays with delivery.

RETURNS
At Powerful Peaks Trading Company, all of our products are carefully inspected before they are shipped. Due to the nature of our products, used candles cannot be returned or refunded. However, we will replace or refund products damaged during shipment if photographic proof of damage is submitted to Powerful Peaks Trading Company within 7 days of delivery.

You may also exchange your product for another candle of the same size and price within 14 days of purchase. The buyer is responsible for shipping cost on all return items.

In the event the package is damaged during shipping you may return your unused candle(s) for a full refund of your purchase price, less shipping and handling within 14 days of delivery. Please contact us at hello@powerfulpeaks.com for further details.
Reviews